Looking for work can be stressful. When we don't get hired we often say things like: why aren't they calling me back, I know I crushed the interview but why didn't they hire me! Then of course there is the, I'm overqualified, that's why I am not getting hired! We've all been there, submitting those resume, going to the interviews and nothing happens. What's the real deal here, is it the employer or is it you? Truth be told, maybe it's a bit of both! So, never fear, the Career Engineer is here to share some REAL TCE Tough love to share what employers want and how you can meet the need.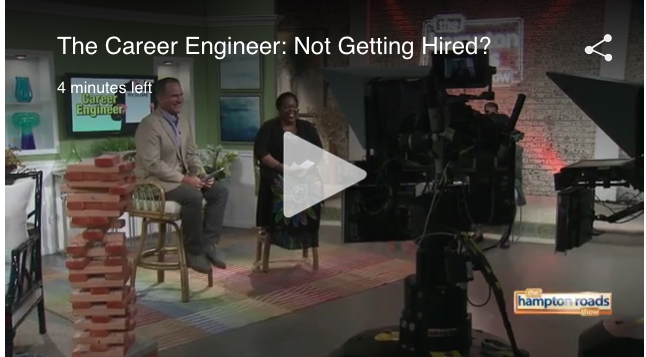 Why Am I NOT Getting Hired?
YOU DON'T HAVE the skills they need: It's NOT about what you can do; it's about what they need. If the job requires 5 years of "thus and so" and you have 2 years and still apply…yikes! If the job prefers a Bachelor's degree and you apply with a PhD…well? TCE Example: Employer needs a hammer but you keep sending the duck tape, lawn mower, power drill and forklift resume…get it!
YOU DON'T KNOW WHAT YOU WANT: Still applying for ANYTHING and EVERYTHING! This demonstrates lack of focus, planning, strategy, research, and preparation skills. Would you hire someone who throws a ball in the air and HOPE it hits the target?
YOUR INTERVIEWS NEED WORK: Just the facts…oh and some great stories. An interview is a meeting of the mind, body, soul, spirit and yes skills. This is where you are being accessed (all of you). By the way, you have maybe 30 minutes to SELL your gifts, talents, energy, personality, passion, knowledge, ability, job interest and skills. (So Practice!)
YOUR resumes are confusing: Plus you have too many of them! Your resume should showcase what you WANT and what you have DONE with what you've GOT! It should speak to your Performance, Accomplishments and Leadership (P.A.L.), passion and personality. It's your first work sample…not something you just throw together.
YOU'RE NOT A GOOD FIT: Failure happens when you try to be something that you are not! Forcing a square peg (with skills) into a round hole (need skills)…will not work. Employer hire for skill, talent and ability…but they also hire for likability and "goodness of fit" as well. Do your research and find the right company, culture and management style that works for you. For example these are all great employers with a big difference in workplace culture (Google, Amazon, USgov, Pfizer, Costco).
Learn what Employers and CEO's Want: Saturday, October 21, TCE Career & Biz Breakfast & Summit "The POWER of NOW & NEXT!" http://TCEsummit.com & http://Facebook.com/TCEconference