Don't Get Anxious – Get Prepared!  Fact:  I am NOT a morning person!  In fact for years its been a well know fact, "don't say anything to Francina…until she has HAD HER COFFEE."  A couple of sips of Joe and I am off running and getting all my career, life and business places and spaces in order.   Well, last week I was having an amazing and inspirational conversation with my Pastor Adrian Woodard  and he contacted me…EARLY in the morning.  It must have been pretty obvious that my voice was reflective of the fact that "I have not had my coffee yet" and "Pastor A" has discerned this limitation.  He is a quick study and he knows I struggle in this area  (plus I say "I need my coffee" all the time).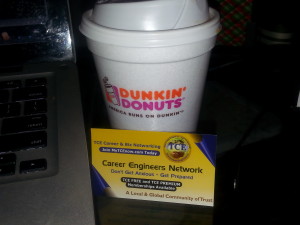 So how interesting it was to me that "Pastor A" said, "Francina, GOD should be your Coffee." and he proceeded to shower inspiration, encouragement and an alert that he just may pop in an EARLY call or two "every now and then" to remind me of this.  We both laughed and enjoyed a chuckle of the moment.  But after we ended our chat, I thought about it, "what if GOD was my coffee?"  (That's just Like Pastor A, always trying to make me slow down, wait and …ponder!)  So I thought of all the reasons, celebrations, problems, situations that I use coffee to make it through my day versus taking additional time out for a moment with GOD.  So this is what I have come up with take a look and let me now what you think.
What if GOD Was My Coffee …What Would I Do Differently?
Can't/Won't Start My Day Without Coffee:  Before my feet hit the ground, I am often in a dream state and can't get it together without my cup of coffee.  In my mind, nothing starts, until I make that Dunkin Donuts run and after 10 or 15 minutes, I am good to go. Now, imagine in this scenario if coffee was replaced by GOD.  What a difference it would make in the start and finishing of my day! (Relying on GOD to start…everything!)
Need a Boost – Coffee to the Rescue ( Here I Come):  Ok, so it's an all night gig, or I have to get a TCE project done! Well, I RUN to the coffee…because in my mind, I can't do it with out the boost.  I need that edge, that sweet and powerful caffeine  to give me the rush I need.  Imagine, if my running was to the author and finisher of my faith, the one who designed me and created my purpose.  The one who I believe is the Alpha and Omega in my life. Now, imagine in this scenario if coffee was replaced by GOD.   Shouldn't this be the place where my true "boost, edge &  power" should come from.  (Another hum moment).
Coffee Warms Me Up it Just Feels Good:  A cold winter night or having a cup of coffee as I socialize with family, friends and peers.  Great conversation over a cup of coffee is an American tradition.  Let me own this, it's MY tradition.  It feels good, it's comforting, it's accepted, everyone understands it.  Now imagine in this scenario if Coffee was replaced by GOD. Is he not comforting, should I care whether he is accepted by all as long as HE is accepted by me?
I love Coffee, I May Even be Addicted to It:  Dunkin Donuts is definitely my friend.  I can't stay away from the place (and I won't share my other addiction for those gosh darn donuts).  But I have got to tell you as a New Englander, this is the best cup of coffee on the planet and I LOVE IT.  In fact, I have even tipped out of the house…at night…for a cup of this good stuff (yes I am that addicted). Now, imagine in this scenario, if Coffee was replaced by GOD.  The same love and sense of not letting go..the quenching of my thirst…is a feeling/action that should be destined for GOD and not my "cup of coffee.
Yes, this is a different type of TCE blog post for me and an opportunity for me to share my journey on ensuring my faith should be as evident as the many cups of coffee in my life.  Who knows, maybe it will encourage someone else to rethink…their coffee.  I am not here to convert or convict you…that not my job.  But I was compelled to share this part of my journey, as it's been one of the most "teachable moments" in the last 10 months of my life.  I have to thank "Pastor A" for a powerful statement that was re-engineered to a great question which I hope will get a lot of us…thinking.
The really cool thing is, I am not writing this post on a coffee fix…doing this one totally on my own (let me correct that, with GOD).  I look forward to your comments, thoughts, posts and shares. #TG4FNL